PLEASE NOTE - DUE TO COVID RESTRICTIONS WE ARE NO LONGER TAKING ANY ORDERS UNTIL MONDAY 1ST MARCH 2021.


Postage Costs - 4/9/20
I have just gone through the postage costs of all our items to see if we can reduce them somewhat. All UK postage is priced for 1st Class (there is no option for 2nd Class) so if you would like any order sending 2nd Class please let us know. Also some of the items can be posted by Large Letter instead of Packet (again, no option for this on the system). Any overpayment in postage (UK, Europe, RoTW and USA) will be refunded via PayPal when your order is posted. This way we can ensure that you always pay the correct postage.


US Postage Increases - 8/7/20
Unfortunately we have had to increase the price of shipping to the US but we have tried to keep the costs down as much as possible.


CORONAVIRUS UPDATE - 1/5/20
Hi. We hope everyone is still keeping safe and managing to complete some of those projects you've been meaning to do for a long time!
We are still operating as normal - packing and posting all orders on time - following all recommended guidelines and Royal Mail are still saying to allow extra time for deliveries under the current circumstances.
We'd love to see any of our products you have painted so please email pictures to us
miniaturemenandcomponents@virginmedia.com
Keep safe and keep painting!
Gary & Alison


CORONAVIRUS UPDATE
Hi. We are still operating, still packing and posting and following all government guidelines.
We use Royal Mail for 99.9% of our parcel deliveries and they have advised that during this period there may be some delays.
It may come to a point when we do have to temporarily suspend posting orders but we will still be available to answer any messages.
Thankyou for your understanding.
Keep safe!

Gary & Alison


28th February 2020
After our successful Kickstarter last year we are delighted to say that we now have the Desert Orcs in stock in our webstore!
The Commando's are yet to be added as they are currently with Matt Walford (our exceptionally talented painter) who is working his magic on them. As soon as we get these we will be able to add these to our webstore too.
We would be delighted to see your painted versions of any of our figures (Wild West and Desert Orcs) and will add them to this newsfeed page for all to see.
We hope you like them as much as we do!
Happy shopping, painting and gaming!




16th September 2019
We have had another successful Kickstarter - our Orcs in Shorts - and are nearly ready to post out all pledges! These should be completed and despatched by the end of September and then we can start adding these to our webstore! 


8th July 2019
Last Few Days of Orcs in Shorts Kickstarter
Well, its the last few days of our latest Kickstarter 'Orcs in Shorts' and we need your help to get us funded. We're nearly there - £808.00 so only a couple of hundred to go! If we exceed our target of £1,000.00 we will be giving away a free officer (choice of 2) to all pledges over £25.00 and further funding targets open up the beret heads and commando heads.
We are sooo close to funding - please share as much as possible (and back us!) and help us get our new range off the ground.
Here's the link to the Kickstarter and also a couple of pictures of the alternative heads. We hope you like them
https://www.kickstarter.com/projects/21843325/orcs-in-shorts
Many thanks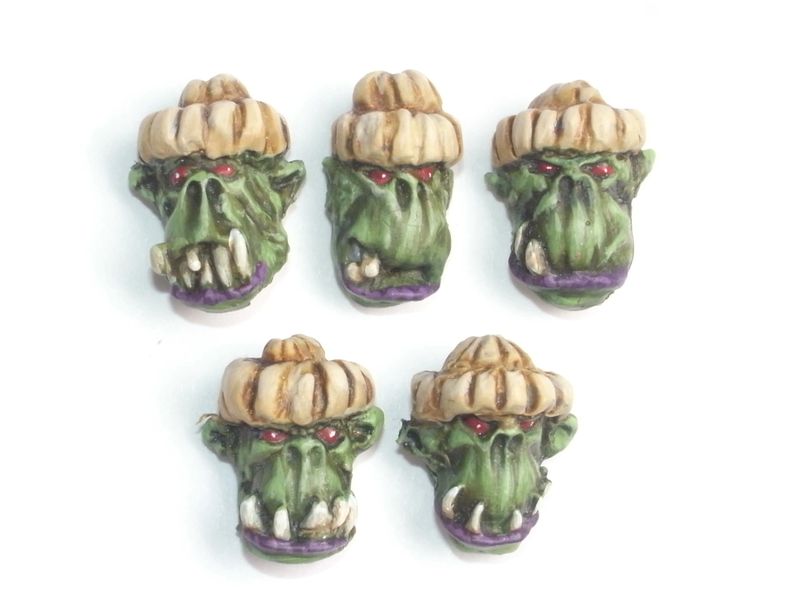 12th June 2019
New Kickstarter - Orcs in Shorts
We are very pleased to announce that our new Kickstarter, 'Orcs in Shorts' has just gone live! These are a range of 28mm scale metal Orc miniatures inspired by WW2 Desert Rats.
Click the link below to take a look (and hopefully back us!) and here's a piece of artwork to whet your appetite


1st June 2019
Here are some photos sent by one of our Kickstarter backers, Michael Lung.
He has created his own fantasy setting which he calls 'How The West Was Gnomed' and has used and converted some of our figures - we think they look awesome and a great example of making figures work for you and your imagination.
Thankyou Mike for sharing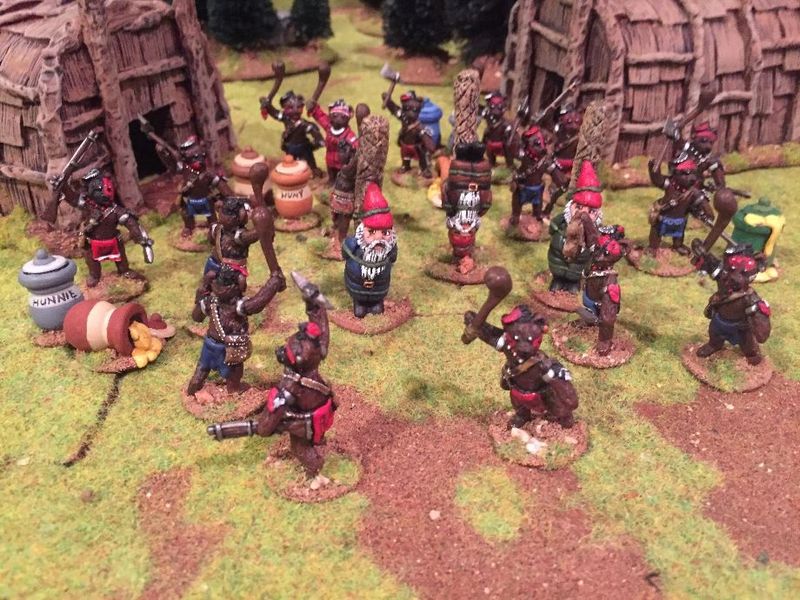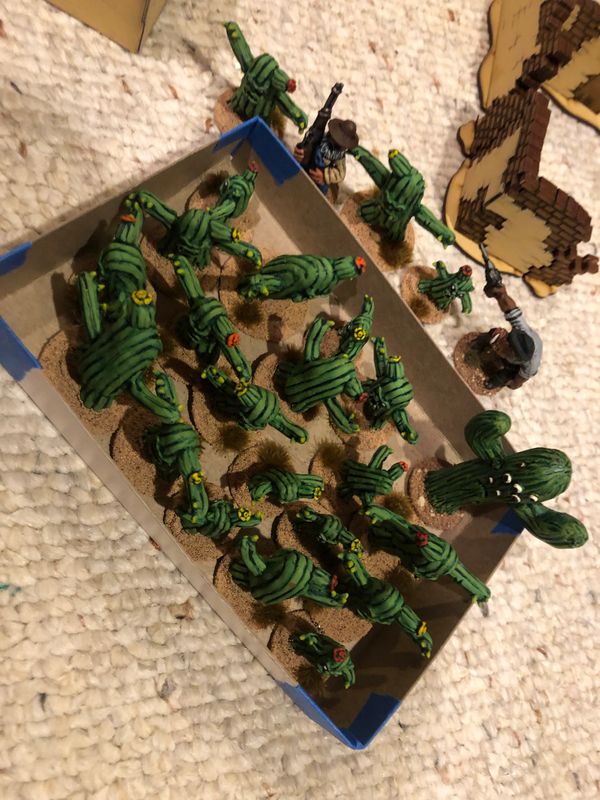 22 May 2019
A teacher at a local school recently purchased some of our boys as an alternative gang for Dead Mans Hand at his school gaming club.
When we discovered what Adrian was doing we donated some terrain and scratch buildings we used for the Kickstarter and we are very pleased to say the students are embracing the Fantasy Wild West - they have even named their town Garison (Gary & Alison - Garison! Well done to the year 9 student who came up with this!)
Here are a few photos sent from the gaming club and also some shots of Adrian's gang in a Dead Mans Hand game played at the Lenton Gamers Club in Nottingam ... and the Orcs won!!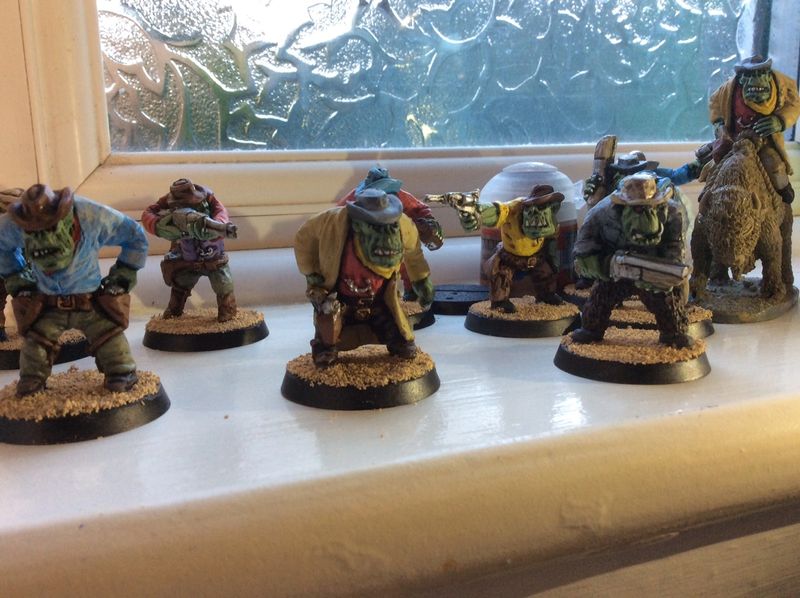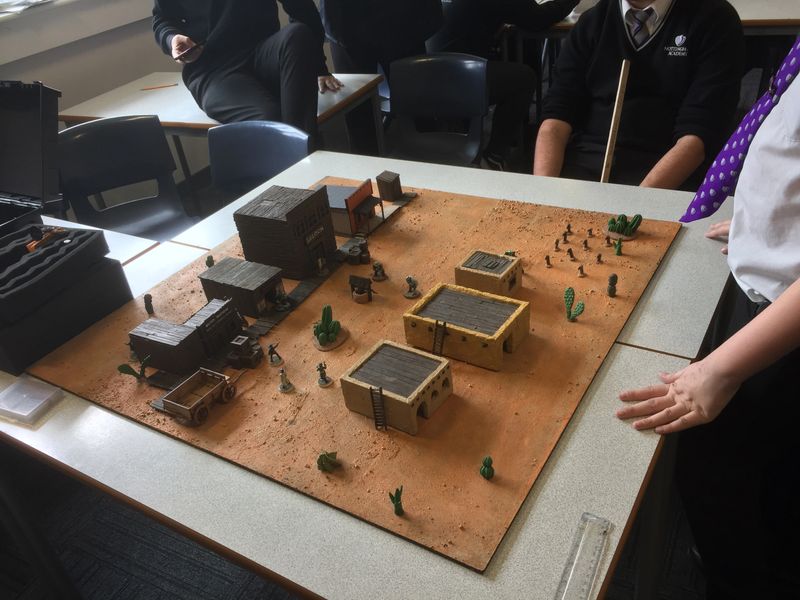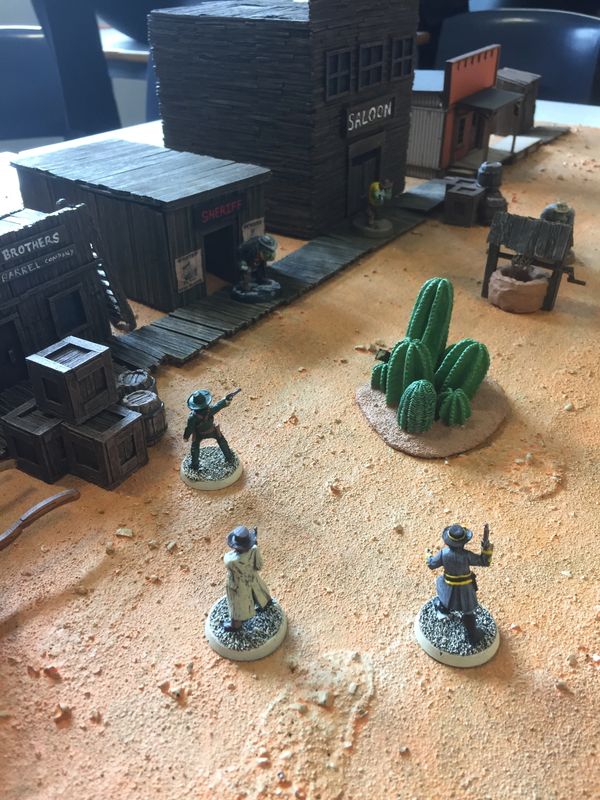 Howdy Y'all!
We hope everyone is well and enjoying painting and gaming with the Fantasy Wild West figures.
Its been a while since our last update with 'real world' issues getting in the way but we would like to show you a couple of new minis to expand the range
These are multi part figures with separate bodys, heads (from the 1st Kickstarter) and hands with assorted weapons. 
We will release these in a set of 5 x bodys (I'm still sculpting the other 3!) later in the year but if anyone is interested we have a small amount of master castings available for sale at a special price of £4.00 plus postage (UK - £1.80, Euro - £4.50, RotW - £5.00) for the 2 x bodys and a set of 7 x hands OR £6.00 plus postage if you also want a set of heads. 
Please message us if your interested. 
We are also looking for ideas for more minis in the range so if there is anything you can think of please let us know. 
Thats all for now 
Gary & Alison






LATEST MINIATURE NEWS
January 2018
We hope everyone has had a great Christmas and New Year!
Welcome to our store and apologies to those who have visited us in the past few months and found that this page hasnt been updated for some time. We feel its right that we give you an explanation for this and assure you that we are now back on the case! 
I (Alison) was diagnosed with a long term illness which has had a massive impact on our business. Not only have I not been able to work but Gary had to cut his hours down in order to look after me. Things are now improving with the help of new medication and we are both able to concentrate on our webstore and ebay store more.
We have added a new category today - Components - in which you will find individual parts for our Mounted Cowboy Orcs so that you can make your own! We hope to be adding to this over the coming months to give you even more choice.
Again, apologies for the lack of input over the past months but we are definitely back in the room! 



---

---

---

August 15th 2017
We are pleased to say that all the new characters from our recent Kickstarter are now in stock. We will be adding the sets shortly.
---
July 18th 2017
Re-stock
Just to let you all know we've now had a re-stock of our Cowboy Orcs. 
The new dwarf/human/orc/goblin figures will be added to our store as soon as everyone who backed our Kickstarter campaign receives their figures, which hopefully wont be too long as they have all been posted!
---
---
June 17 2017
The Named Dwarfs
We now have the names of all our Cowboy Dwarfs (big thankyou's to all our backers) so without further ado please let me introduce to you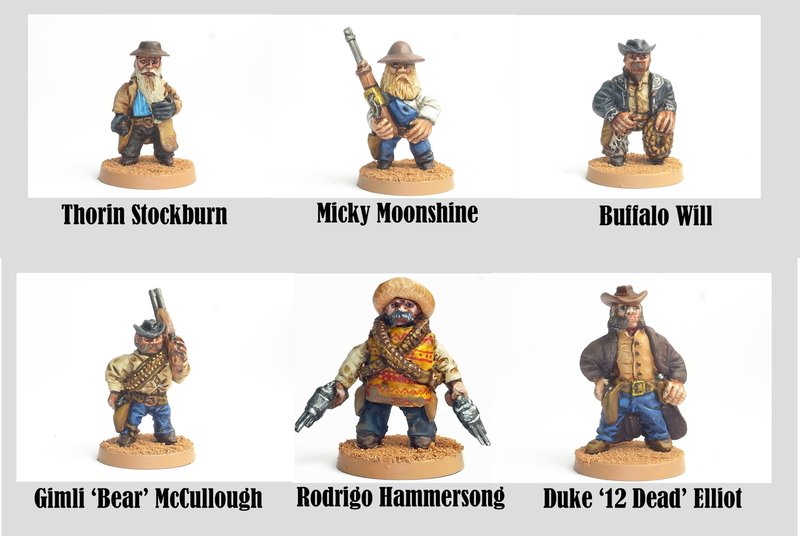 ---
May 25th 2017
Final Days of our Kickstarter
Its the last few days of our Kickstarter and although we are funded there are still some great pledges to be had ie name a dwarf cowboy and some painted sets.
We really need your support to get at least one more stretch goal - the Gwimm Brothers - before the Kickstarter ends on Sunday 28th May. Here's a picture of Ma's Boys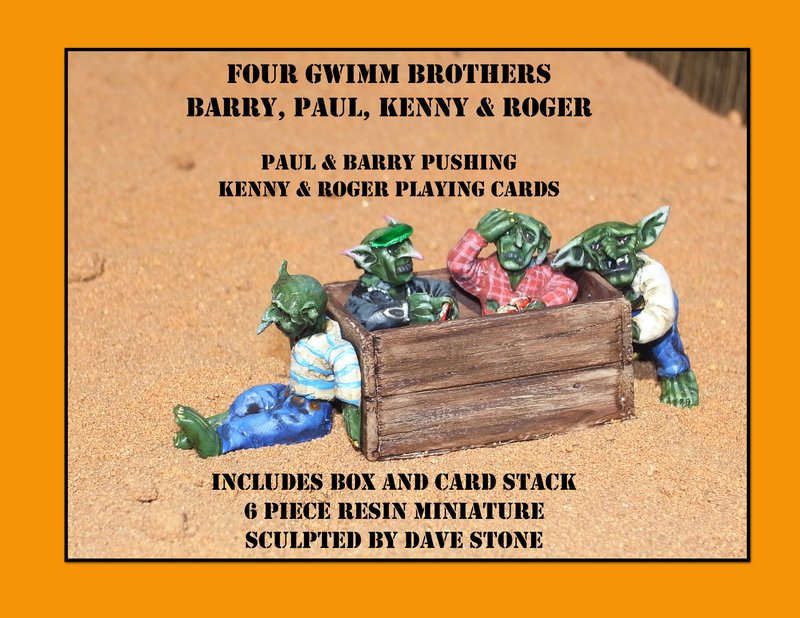 Please share this project with as many people/groups/forums as you can and lets get everyone some more free minis! Click the link to the Kickstarter below
https://www.kickstarter.com/projects/21843325/wild-west-fantasy-miniatures
Many thanks
Gary & Alison


---
---
15th May 2017
Kickstarter Funded!
We are delighted to announce that our Kickstarter is now funded. We still have another 14 days to go so its onto the stretch goals and free minis. We've already opened up the first two stretch goals - sweet little Ma Gwimm and a set of new orc cowboy heads. Next is the Gwimm Brothers (Ma's boys!).
We announced yesterday a new stretch goal and its a biggie, affectionately called 'Big Guy' - here's a picture of him (we did warn you he was big!)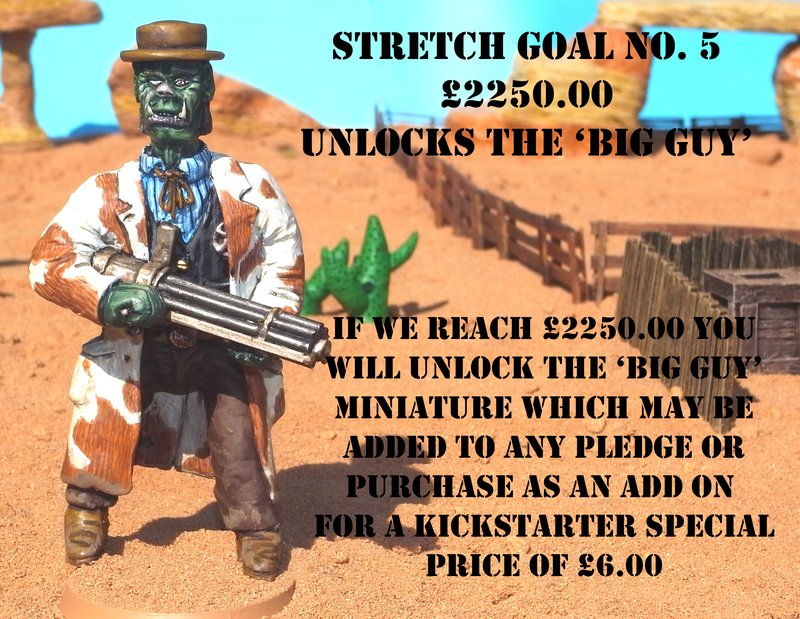 We do hope you like him! Thankyou to everyone who is supporting us with this project and please keep sharing - the more backers and money raised, the more stretch goals and freebies for all!
Kickstarter Now Live
1st May 2017
We are delighted to announce that our new Kickstarter is now live!
Click the link below and check it out. Please share with all your friends too! Here's a photo of the 17 new miniatures we have
Many thanks - Gary & Alison
https://www.kickstarter.com/projects/21843325/wild-west-fantasy-miniatures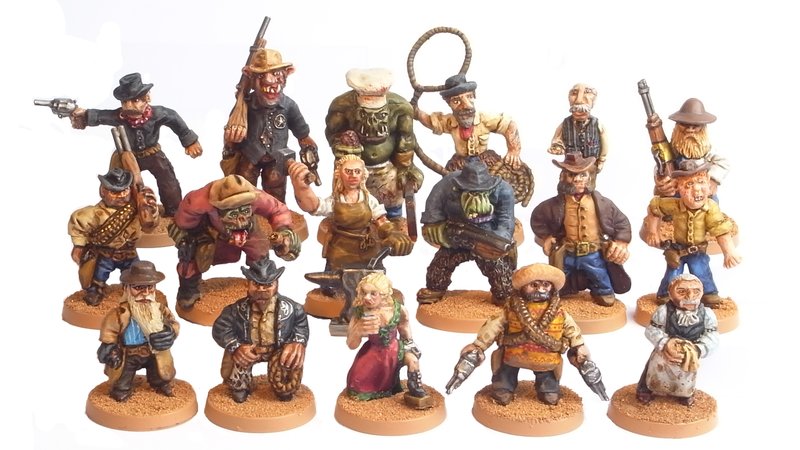 ---
---
Kickstarter Date Now Confirmed
11th April 2017
Our new Kickstarter will start on Sunday 30th April 2017. We have 18 new minis for the Weird Wild West - new dwarfs and humans and some more Orc characters. Make a note in your diary!!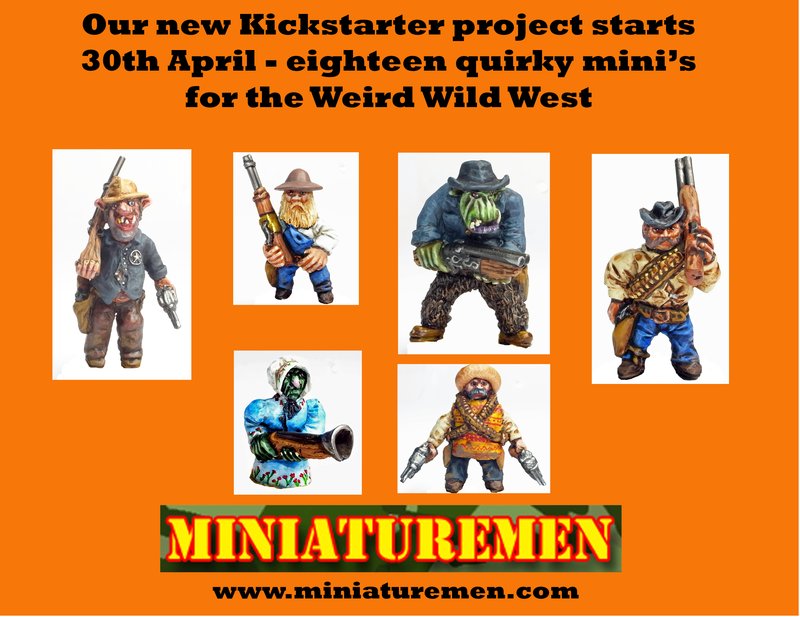 ---
Off to the painters we go!
22nd March 2017
These boys are naked so its off to Matt they go for him to do his magic on!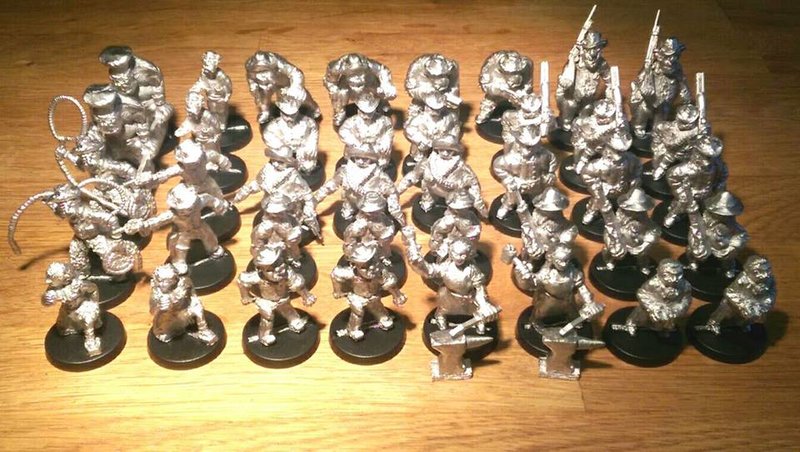 ---
New Kickstarter Coming Soon!
28/03/2016
We are pleased to announce that we have a new Kickstarter coming in April (date to be confirmed) but thought you might like to see a sneak peek at some of the new figures! Hope you like them!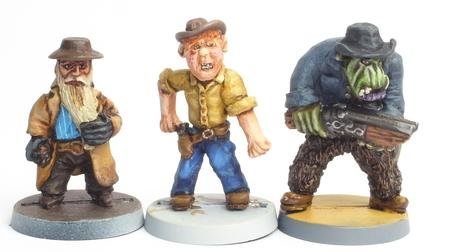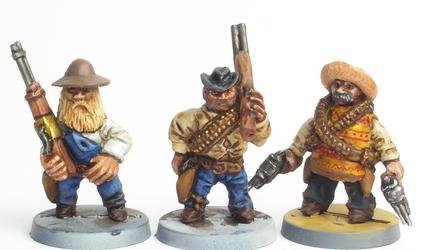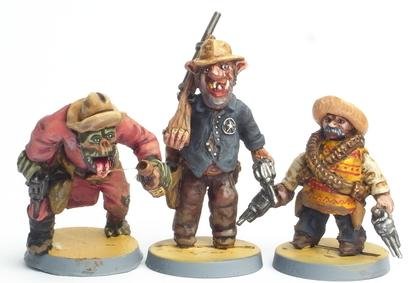 Keep an eye on our Facebook Page for the Kickstarter launch date.
---
Alternative Transportation for your Orcs or Orks
10/02/2016
Just added to the store - resin bison with rider legs!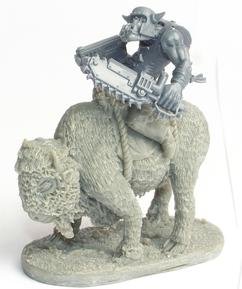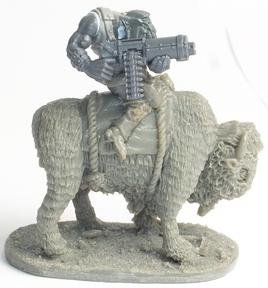 Designed for our own Cowboy Orc range these big beasties would make excellent mounts for Ork Boarboyz or alternative Biker Boyz.
There are seven different bison in total, all have rider legs attached with gun belts and holsters and each bison has its own unique equipment.